Recently, I have acquired a few professional radios used in taxi service for a good price. Radios are very well made, very rugged and probably very reliable. They are VHF only. Service manual with full schematics and programming software is available.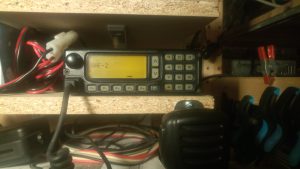 After searching Internet back and forth for some information and software i have finally gathered all I need and I will share it here.
Programming cable
Original cable is supposed to be ICOM OPC-592. By looking at the schematic I realized it is simple one wire TTL-UART. In the past I hacked together same interface for Alinco DJ-X30 scanner. Here is the schematic:

If you do not have this "FTDI" interface, I would recommend buying one with Silabs CP2101 chipset. That one is least problematic. FTDI and Prolific are often fake chips and driver refuse to work with those.
My ugly hack cable: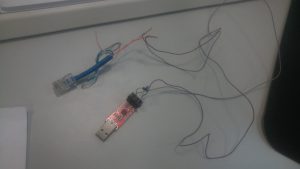 If some wants ready made cable, leave a comment and I can make it for you.
Programming (cloning) software

Deep down on the web there was installation files available for download. I believe this software was sold by ICOM, but it is more that 15years old (and still works well on Windows 10). I think no one will be offended if I mirror it here. I consider this abandon-ware.
Do not ask me how to program X or Y, I still do not know. There are many options related to trunk operation in professional segment and I have almost no clue. I was able to program channels to get to my repeater and open VHF channels.
Download the software CS-F1600 CD-221501-003
Service manual
ICOM service manuals do not stop to amaze me. One can learn so much by studying their block diagrams and schematics. It is invaluable to have it. I also own very old ICOM IC-240 from late 70's and with help of service manual I was able to fix it and make new VFO unit for it!